Tools & Equipment for Inspection, Tuning, Measurement and Cleaning
Tools & Accessories
Preparation & Polishing Tools
Inspection & Tuning
Measurement Equipment
Cleaning Tools
Fiber optic patch cords and Pigtails are very important passive fiber optic components in fiber optic networks. There are many different fiber optic patch cable types as per their connectors and cables in making a fiber optic patch cord. You can learn Fiber Optic Patch Cord Wiki first. You will know the basic knowledge about them. To a purchase manager or salesman, It is better to learn How to make Fiber Optic Patch Cord and Pigtail too.
Here below we are trying to give you General View about How to make Fiber Optic Patch Cord and Production Process.
General View about How to make Fiber Optic Patch Cord and Pigtail
There are often 10 necessary steps to make sure a fiber optic patch cord qualified globally in the market.
Step.1 Fiber Optic Patch Cord Cable Cutting
Before fiber patch cords making, we should prepare all the materials like fiber cable, fiber connectors etc. A patch cord cable is often in a reel and it should be cut by cutting machine as per the length requirements by customers,A fiber cable cutting machine makes it easy and effective in cabling cutting.
Step.2 Fiber Optic Patch Cable Cleaning & Pr-handling
Clean the cable after cutting is very important, This process is to make the fiber inside without any dust before inserting connector.Put the cable in good sequence so that it would be very easy to insert connector.
Step.3 Fiber Patch Jumper Cable Stripping & Identifying
Use the jacket stripper to strip the outer Jacket that may 3.0mm or 2.0mm or 0.9mm and use Fiber Miller Stripper Remove the Tight buffer Cladding of 0.9mm inner jacket of the Core and use the pastes to identify the cable for producing the duplex or multi patch cord.
Step.4 Fiber Optic Ferrule Glue Injection & Fiber Inserting
Inject some Epoxey Glue on the surface of the fiber and then inserting the fiber into the ferrule of connector. Usually it is professional glue called353 epoxy.You Can do it By hand or By machine .
Step.5 Fiber Patch cord Fiber Solidifying
Use vertical solidification furnace or horizontal solidification furnace to solidify the fiber on the connector.
Step.6 Fiber Patch Cable Ultrasonic Cleaning & Polishing
After solidifying, the half-finished patch cords need to be cleaned with ultrasonic cleaning machine.And the interface of the connector needs to be polished to make sure the fiber would be one the same line as the ferrule.
Step.7 Microscope Inspection for fiber jumper
Use 400 times or 600 times microscope to inspect the interface of the connector to make sure it clean. If there is any dust on the interface, we need to re-clean the connector again.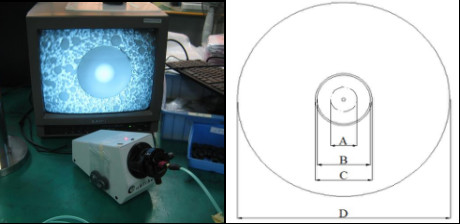 Step.8 FQC for a fiber patch cord
Use the inspection machines to do the FQC.It is important to test the patch cord for insertion and return loss value since they are the key factors affecting the function of patch cords.
Step.9 Kits Fast connector assembly to fiber optic patch cords
Assembly the other parts of connectors to the patch cords .
Step.10 Packaging a fiber patch cord
After all the testing, the patch cords would be packed according to customers' needs.Usually, each patch cord would be packed in one bag in order to keep it safer.
After the above illustration, Do you have better understanding about How to make Fiber Optic Patch Cord? If not, Please feel free to contact us
How many patch cords can be produced per day by this set that you have given us?
It depend to number of worker(normally 4~5) and there speed and experiences  and patch cord type .but it normal condition in 8 hours working day you could reach 500 pcs patch cords.
What is warranty on the equipment?
4 years, all the equipment test before delivery and until now we didn't face any problem. If any things goes wrong we replace at the beginning, any way the tools are not high tech machine and expert mechanic can fix them quickly or replace them. Let me tell you your worker after while can open polishing machine for clearing and Lubrication even with close eyes…
How about training to use the equipment?
We receive 500 USD a day for training + (Hotel min 3 Stare + Air thicket + Food base your local cost) but honestly you can learn the process by Films and on YouTube) and ask us any things during production to lead you. Or you can find local skillful worker from other factory in your place with lower cost, they will be happy to earn some money.
Any certifications your machines carry?
The machine consist of part for example polishing ,machine have motor part and PLC that are all high quality Items From Japan factory and assemble in our place and all the part have high standard that you can check .
What is the lifetime of the polishing jigs?
If the worker use them properly and not hit in metal part it's work for life time and plastic part as we use high quality ABS material min 500000 Time usable.
How many patch cords can be polished by each pad and film?
It depend to ferrule and the experience of worker but in generally for 24 jig 5 time and up 10 time. For pad you should change them after 500000 polishing time normally or some time earlier, your worker understand the time you need to change pad when they see the ferrule on microscope.
We want to make our assembly line as automated as possible with less human interaction. Can you please comment on this?
Dear most of the line are automated already (Cable cutting and polishing). there is another machine for stripe cable and buffer that i am not suggest, because you pay high money but this machine after while need maintenance and after some maintenance and calibration you need to change blade and after that machine cannot clear buffer and sometime worker need to trip by hand the remain and…. after some month worker prefer not to work with them because the buffer cutting by machine is not reliable. In brief expert and skillful worker for striping cable and buffer are more valuable and even speed raise after a while.
The solution quoted are they for 3mm patch cords only? Or can we also make 2mm patch cords and pig tails also?
The Cable size is not matter . you can assemble connector to various cable 0.9/2.0/3.0/….. FTTA 7mm Cable , Drop Cable ….
What about MPO and MTP patch cords
whit this line you can not assemble MPO MTP connectors
Final Note
I totally understand your concerns about the quality , But let me tell you that actually we don't earn any profit by sealing you production line because we have to offer high quality products and our cost is higher compere to other , our main profit Continuous sales of raw materials for your product line and trail order for raw materials and consuming material , Because of that we only offer quality and reliable production line to our customer . Because if any inconvenience happen we lose your future orders.