Fiber Patch Cord Production Line
Fiber Patch Cord Production Line Patch cord pigtail  manufacture Line fiber optic patch cords production patchcord and pigtail manufacture line patchcord and pigtail production line China.
Due to the development of communication technology and the use of optical fiber in modern telecommunication systems, as well as its expansion from telecommunication centers to users' homes in FTTH and FTTC systems, the need to produce patch cords and pigtails is felt in all areas. You can generate revenue by selling patch cords and pigtails in order to generate revenue and sell other peripherals in order to gain a competitive advantage, such as selling splitters, cables or active equipment, as well as on-site fiber installation and fusion services.
Our company can accompany you with all its might in setting up the production line of patch cord and pigtail fiber optics. From purchasing equipment and raw materials to training and setting up a production line.
Steps to produce patch cord and fiber optic pigtail
ّ

First, let's look at what patch cords and pigtails are basically?
A fiber optic patch cord is a cable whose two ends are connected to a fiber optic connector. This device is used to connect equipment and components in the fiber optic network and is also called patch cable. There are various types of fiber optic patch cords with different types of connectors, such as LC, FC, SC, ST, MU, MTRJ and E2000 and so on.
Fiber optic patch cords can be classified with a variety of fiber optic connectors. For example, the LC patch cord is so named because it has an LC connector. There are also patch cords SC, ST, FC, MT-RJ, E2000, MU and MPO / MTP and so on.
Another type of classification that is connected to the type of ferrule polish and is divided into three types of patch cord PC, UPC, APC.
Fiber optic patch cords are also divided according to the type of cable used. Like simplex or duplex patch cord. In the simplex type, there is only one cable string, but in the duplex type, there are two cable strands, which are also called zipcodes.
A fiber pigtail is a single, short, usually tight-buffered, optical fiber that has an optical connector pre-installed on one end and a length of exposed fiber at the other end. The end of the pigtail is stripped and fusion spliced to a single fiber of a multi-fiber trunk.
Step.1 Fiber Optic Patch Cord Cable Cutting
Before fiber patch cords making, we should prepare all the materials like fiber cable, fiber connectors etc. A patch cord cable is often in a reel and it should be cut by cutting machine as per the length requirements by customers,A fiber cable cutting machine makes it easy and effective in cabling cutting.In any case, this can be done by the worker, but in the future, when the volume of demand increases, the need for this machine to increase production speed will be very noticeable. It can cut the cables of different specification and different length and wound into a circular ring. It has a meter counting function and accurate cutting, wrapping integrated.The operation is simple, you can set different length, speed, quantity, etc. Greatly improves production efficiency. 
Step.2 Fiber Optic Patch Cable Cleaning & Pr-handling
Clean the cable after cutting is very important, This process is to make the fiber inside without any dust before inserting connector.Put the cable in good sequence so that it would be very easy to insert connector.
Step.3 Fiber Patch Jumper Cable Stripping & Identifying
Use the jacket stripper to strip the outer Jacket that may 3.0mm or 2.0mm or 0.9mm and use Fiber Miller Stripper Remove the Tight buffer Cladding of 0.9mm inner jacket of the Core and use the pastes to identify the cable for producing the duplex or multi patch cord.
Step.4 Fiber Optic Ferrule Glue Injection & Fiber Inserting
Inject some Epoxey Glue on the surface of the fiber and then inserting the fiber into the ferrule of connector. Usually it is professional glue called353 epoxy.You Can do it By hand or By machine .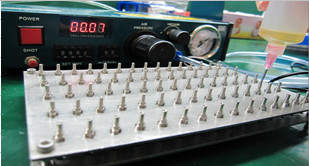 Step.5 Fiber Patch cord Fiber Solidifying
Use vertical solidification furnace or horizontal solidification furnace to solidify the fiber on the connector.

Step.6 Fiber Patch Cable Ultrasonic Cleaning & Polishing
After solidifying, the half-finished patch cords need to be cleaned with ultrasonic cleaning machine.And the interface of the connector needs to be polished to make sure the fiber would be one the same line as the ferrule.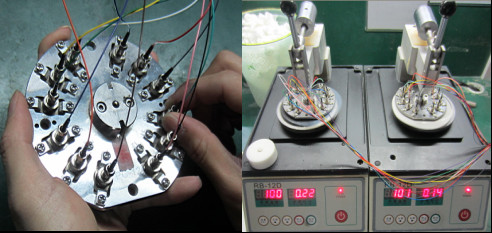 Step.7 Microscope Inspection for fiber jumper
Use 400 times or 600 times microscope to inspect the interface of the connector to make sure it clean. If there is any dust on the interface, we need to re-clean the connector again.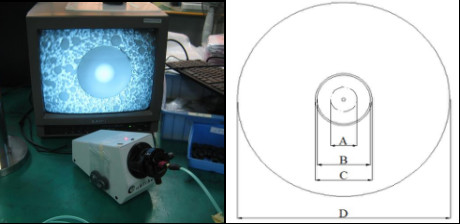 Step.8  FQC for a fiber patch cord
Use the inspection machines to do the FQC.It is important to test the patch cord for insertion and return loss value since they are the key factors affecting the function of patch cords.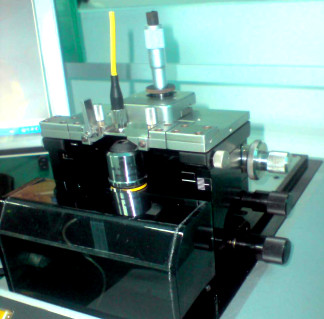 Step.9 Kits Fast connector assembly to fiber optic patch cords
Assembly the other parts of connectors to the patch cords .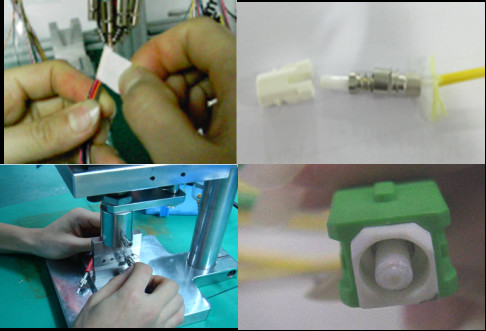 Step.10 Packaging a fiber patch cord
After all the testing, the patch cords would be packed according to customers' needs.Usually, each patch cord would be packed in one bag in order to keep it safer.

Fiber Optic Patch cord and pigtail Production Line Fiber optic polishing system including all equipment's and assessors for fiber polishing. This is the key process to manufacture fiber optic patch cable , fiber patch cord  , fiber optic pigtail . Fast connector , field assembly connector and so on .  We can provide Whole production line equipment , also we provide professional  fiber polishing skills training . fiber patch cord making machine Fiber Optic Patch Cord Production Machine
patch cord production line,patch cord production machine,patch cord and pigtail manufacture line,lc upc jig,patch cord production line equipment,patch cord and pigtail production,patch cord production equipment's,patch cord production line manufacturers,patch cord production line equipment manufacturers
QUANTITY
DESCRIPTION
H.S Code
UNIT PRICE (USD)
AMOUNT RMB
Amount USD
1
Polishing Machine
8479820090
$940/80
¥6,585/60
$940/80
1
Insertion loss & Return loss Machine Multifunction SM&MM
9031801000
$1,056/00
¥7,392/00
$1,056/00
1
Fiber Optic Epoxy Curing Oven
841989
9090
$288/00
¥2,016/00
$288/00
1
Pneumatic crimp machine for Fiber Optic Connectors
847989

9990

$288/00
¥2,016/00
$288/00
1
Integrated Fiber End-face Visual Inspector
852580
1390
$172/80
¥1,209/60
$172/80
1
Glue dispenser
847989

9990

$90/00
¥630/00
$90/00
1
 Visual Fault Locator
903180
1000
$16/00
¥112/00
$16/00
1
 SC/UPC Polish Fixture 24-port
847990
9090
$288/00
¥2,016/00
$288/00
1
 SC/APC Polish Fixture 24-port
$307/20
¥2,150/40
$307/20
1
 FC/UPC Polish Fixture 24-port
$288/00
¥2,016/00
$288/00
1
FC/APC Polish Fixture 24-port
$307/20
¥2,150/40
$307/20
2
 LC/UPC Polish Fixture 24-port
$288/00
¥4,032/00
$576/00
1
LC/APC Polish Fixture 24-port
$307/20
¥2,150/40
$307/20
200
Polishing film 30um
6805200000
$0/72
¥1,008/00
$144/00
200
Polishing film 9um  Japan
$0/90
¥1,260/00
$180/00
200
Polishing film 1um   Japan
$0/90
¥1,260/00
$180/00
200
Polishing films . 0.03um ADS  (NTT) japan
$0/90
¥1,260/00
$180/00
1
70s/80s/90s Fiber Optic Polish Pads make in Japan
$60/00
¥420/00
$60/00
1
Epoxey glue
$96/00
¥672/00
$96/00
1
CFS-2 Miller Fiber Optic Striper Orignal import
820320
0000
$28/80
¥201/60
$28/80
1
Kevlar Cutter miller orignal import
$28/80
¥201/60
$28/80
1
Fiber Stripper
$4/50
¥31/50
$4/50
1
Alcohol pump Empty
3923300000
$1/92
¥13/44
$1/92
1
Optical Dustless paper, 280 pcs / box
4803000000
$1/92
¥13/44
$1/92
¥40,817/98
$5,831/14
Price could be subject Of change. Please contact for update Price
This price List is only for your evaluation and budget estimate