Today's high-density sever and networking applications demand several kinds of infrastructures that can mount a mix of different equipment and support high-capacity cable management in an efficient and flexible design. So cable management plays an important role in the networking system. Organizing and managing the tremendous amount of cables might impact the reliability, efficiency and adaptability of the overall networking system.
Whether it's a network closet, a server room or a data center, it is essential to install a well-organized cable and network equipment to manage the messy cables and wires. A effective cable management system enables the cable operators and network administrators to manage things in the right way. A wide array of cable management accessories are available in the market these days. They are an excellent way to clear up all the mess of wires spread in homes and workplaces. The following 9 cable management accessories will help you to eliminate cable clutter. This will stop you from feeling ill every time when you look at your mismanaged cables.
1.Cable Ties
Cable tie is also known as zip tie, tie wrap and wire tie, which is designed to secure wire bundles and harness components quickly. It is a type of fastener for holding items together, primarily fiber optic cables and copper cables (or wires). Cable ties are cheap and simple components used in cable confinement system. Cable ties are available in a variety of sizes and materials for use on different applications with different requirements. In addition, there are various of color options for cable ties. These color codes help users to manage the cabling and achieve easy troubleshooting.
Figure 1: Application of Cable Ties
Nylon Cable Ties: The most commonly used cable ties are made of nylon. Nylon ties are known for their light weight, pliability, and affordable cost. While they may be installed by hand, a cable tie gun is required for proper tensioning in critical operations, and recommended to reduce installer fatigue in any high volume application.
Metal Cable Ties: Metal cable ties are a great solution for applications in harsher environments or extra security for general purpose applications. Most metal cable ties are made from stainless steel, while some are made of aluminum or other metals. For special applications, such as food manufacturing, magnetic cables ties are available to prevent them from ending up in packaging.
Colored Cable Ties: This kind of cable ties is very useful for grouping together different cable groups or items to be able to single them out easily. It is very quick to see which cables are destined for a particular location or use in a larger bundle. Colored cable ties are the preferred option anytime when distinguishing ties is needed for cable and wire bundling applications.
ID Marker Ties: Identification marker ties off the same strength and durability as standard cable ties, but with a rectangular labeling area on the head. This allows users to label and ID their cables and wires while securing them into place. These cable ties are easy to use and lock quickly and securely around wire bundles, cables, ropes, and more.
Eyelet Cable Ties: Also known as a screw mountable cable tie, the eyelet cable tie has a specially moulded head so the cable tie can be fixed to any surface with a screw, or the cable tie can be fixed and a label tied to the head of the tie for identification. Normally, the eyelet tie is used when a cable or small pipe needs to be run along a surface and fixed into place, the simple eyelet makes the task of fixing quick and easy.
Releasable Cable Ties: This type of cable ties is designed for easy removal and reuse. They have a little nylon catch fitted to the head which can be released to stop the teeth biting into the head. This allows the cable tie to be undone. Releasable cable ties are used for prototype where wires will be added, or when a tie is needed for a temporary application. They are ideal for frequently used cables that need to be easily accessible.
Non-Releasable Cable Ties: Non-releasable cable ties are made for more permanent applications compared to releasable versions. However, non-releasable cable ties are less expensive and are more resistant to tampering.
Beaded Cable Ties: Beaded cable ties have a unique beaded design which allows them to be releasable and reusable.
Ladder Style Cable Ties: Ladder style cable ties are ideal for intermediate bundling and retail applications.
Parallel Entry Cable Ties: Parallel entry cable ties are featured with tamper-proof and low profile heads.
Tear-off Cable Ties: Tear-off cable ties have a quick release design and require no cutting tools.
2.Cable Lacing Bars
Horizontal cable lacing bars are also called lacer bars or strain relief bars. They are usually used to mount to standard EIA 19″ racks, reducing strain on horizontal cables connected to a patch panel or device. In general, there are six types of cable lacing bars. Each one is designed for a specific cabling environment. From the descriptions below, you can know which one is the perfect solution for your application.
Figure 2: Application of Cable Lacing Bar
Round Lacer Bars: Round lacer bars are used for individual or a small amount of horizontal cables. The rod has flattened ends and its diameter is 1/4 inch.
Round Lacer Bars with Offset: When lacing small bundles or individual cables off the rear of equipment, patch panels and other components, round lacer bars with offset are used to relieve cable stress from the connections. Appropriate offset should be selected based on the distance from the rear of equipment to the rack rail.
Square Lacer Bars: Square lacer bars are suitable for cable routing at the rear of equipment. They are also used for vertical or horizontal cable lacing. Similarly, they are still designed with 1/4" diameter rod and flattened ends.
L-Shaped Lacer Bars: L-shaped lacer bars are much stronger and provide fixed lacing points. More cables can be supported by this type of bar. You should also mind the distance from the rear of equipment to the rack rail for offset choosing.
90 Degree Bend Lacer Bars: 90 degree bend lacer bars are special for the 90 degree bend which provides a full-width support. They can also be used for clearance around components that extend past the rear rack rail.
Horizontal Lacer Panel: Horizontal lacer panels are typically used for large lacing amounts of cables or mounting devices. They have large flanges, numerous lacing points and more surface for mounting.
3.Wire Loom
Wire Loom is also called corrugated tubing, wire conduit, split loom, convoluted loom, ribbed tubing, and flexible tubing. Wire looms are perfect for organizing cables and managing cords into color-coded bundles that will help keep your electronic equipment in order and prevents equipment failure or fire hazards. They are used in wide-range applications such as electrical wiring in trucks, cars, boats, as well as for use in home entertainment centers, video games, and home and office PC's. There are many types of wire looms used in cable management. The common types are shown as following:
Figure 3: Application of Wire Loom
Colored Wire Loom: Colored wire loom is an affordable cable organizer and cable protector that are made of polyethylene convoluted tubing. Color wire loom is suitable for use in many industries, such as automotive, computer/electronics, farm/agricultural, marine, recreation vehicles, telecommunications, construction and specialty markets.
Chrome Wire Loom: Chrome wire loom is made of polyethylene convoluted tubing that will hold groups of wires together, offering protection against abrasion and crushing. Chrome colors are molecular bonded to the tubing and will not flake, peel or chip off like other brands. Chrome split wire loom is suitable for use in various industries, such as automotive, computer/electronics, farm/agricultural, marine, recreation vehicles, construction and specialty markets.
Nylon Split Wire Loom: Nylon split wire loom is an automotive grade convoluted tubing that is lightweight, flexible, easy to use, and provides excellent protection for cables, tubing, hoses and wire harnesses. It's flexible nature allows it to be installed around tight curves without the slit opening up. Nylon split wire loom is manufactured from impact modified, heat stabilized Nylon 6 that provides excellent resistance to high temperatures, making it suitable for automobile engines.
Flame Retardant Polyethylene Wire Loom: Flame retardant polyethylene wire loom is the ideal solution for applications that require extreme heat resistance along with protection against impact and abrasion. This self-extinguishing flame retardant split loom carries the UL94 V2 flame test rating, which allows it to be utilized in situations where strict flammability codes are required to be met, providing excellent protection for wire harnesses, tubing, hoses and cables.
Black Non Split Wire Loom: Black non split wire loom is an inexpensive method of organizing your wires and cables into a neat and efficient package which helps maintain an organized and safe working environment. It is made of polyethylene convoluted tubing that provides protection against abrasion, crushing and friction. Black non split wire loom is suitable for use in various industries, such as automotive, computer/electronics, farm/agricultural, marine, recreation vehicles, telecommunications, construction and specialty markets.
4.Racks
A rack consists of two or four vertical mounting rails and the supporting framework required to keep the rails in place. The rails and framework are typically made of steel or aluminum to support hundreds or even thousands of pounds of equipment. The rails have square or round holes that allow you to mount rack equipment to them with screws. (In the case of the square mounting holes, the screws connect to removable cage nuts placed in the required locations.) Some equipment includes horizontal rails or shelves that you mount in the rack to provide extra support. There are three primary types of racks: open frame racks, rack enclosures and wall-mount racks.
Open Frame Racks: Open frame racks consist of mounting rails without sides or doors. They're typically used for server room and data center rack applications that don't require physical security and don't need added airflow control. An open-frame rack cabinet provides easy access and offers plenty of open space for cable management, making this solution ideal for network wiring closets and distribution frame applications with high-density cabling. Open racks have two or four mounting rails (called posts). 2-post racks generally require less depth but support less weight than 4-post racks.
Rack Enclosures: Rack enclosures have removable front and rear doors, removable side panels and four adjustable vertical mounting rails (posts). They're also called rack cabinets. The front and rear doors are typically ventilated to encourage ample airflow from front to back, through any installed equipment. Rack enclosures are ideal for applications that require heavier equipment, hotter equipment and higher wattages per rack. Since the doors and side panels lock, they also provide physical equipment security at the rack level (as opposed to the room level). Enclosures are a popular choice for high-density data centers and server rooms.
Wall Mount Rack: Wall-mount racks are designed to be attached to the wall, saving floor space and fitting in areas where other racks can't. Although it does not offer the same amount of security that a full enclosed server rack could offer, it does offer a moderate amount of security for small systems. They can be open frame racks or enclosed cabinets. They're usually smaller than their floor-standing counterparts and can't support as much weight. The cabinets can be adapted to floor-standing applications by adding rolling casters.
5.Server Cabinets
Colocation Server Cabinets: In a growing trend, some data centers, known as colocation centers, offer equipment, space and bandwidth that can be rented. When you're sharing a server cabinet with a neighbor, you want to know that your data is completely safe. The colocation server cabinet is extremely helpful in that area. Colo server cabinets provide secure, self-contained compartments for multiple tenants to share a single cabinet, so you don't have to worry about tampering – accidental or intentional.
Figure 4: Server Cabinet
Air Conditioned Server Cabinets: More companies are turning off air conditioning on nights and weekends, leaving your electronic equipment vulnerable to over-heating. If you are watching the temperature gauge in your server cabinet climb to unhealthy levels, an air conditioned server cabinet may be for you. These cabinets keep sensitive electronics cool and safe in any environment using internal or external air conditioners.
Quiet & Soundproof Server Cabinets: Servers aren't just hot, they're loud as well. And working in a room full of noisy equipment isn't only irritating. It can be dangerous. Quiet racks use acoustic foam or noise reducing designed systems to bring that roar down to a whisper, and dissipate excessive heat produced by servers, disk drives and controllers by up to 7.2KW.
Seismic Server Racks: Seismic server racks are designed to withstand shock from earthquakes. Whether Zone 1, or Zone 4, seismic racks are built to ensure your equipment stays operational during a seismic event. NEBS (Network Equipment-Building Systems) cabinets go through months of rigorous testing to obtain seismic certification in order to meet EC&M building code requirements. Typical racks are engineered with extra cross bracing. These racks are bolted to the floor to prevent tipping.
6.Cable Manager & Wire Duct
Cable manager and wire ducts are ideal for every situation in which wiring is subject to flexion or torsion. They are designed with circular knockouts in the sides to facilitate branch connections using rigid and corrugated conduits. They has also been introduced for environments in which cables require greater protection against external agents (elevator rooms are a typical example).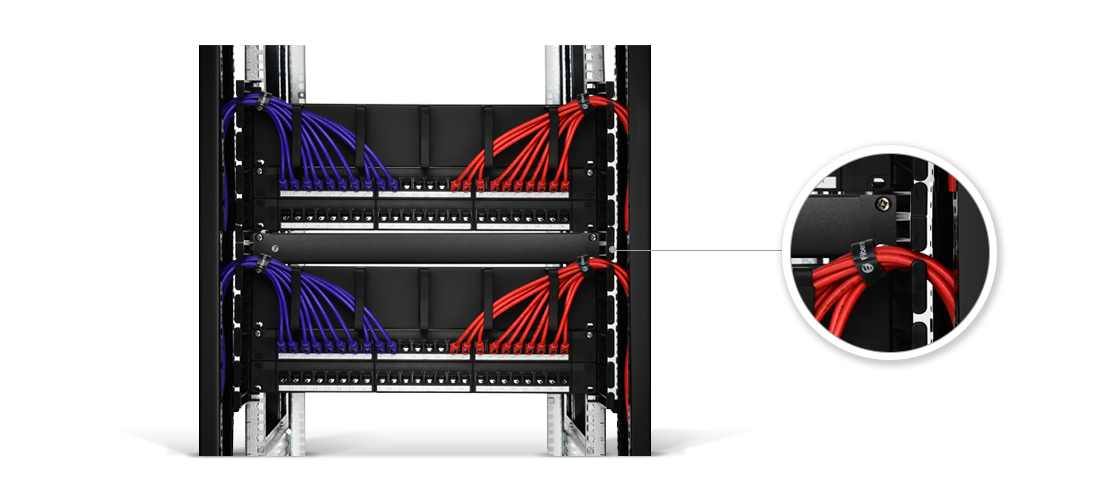 Figure 5: Application of Cable Manager
More importantly, cable manager usually has various styles. First is the type with finger duct. The flexible finger ducts can maximize the care and protection of the equipment and cables. The holes are easy to pass through for convenient cabling. Second type has the D-rings and is available for horizontal, vertical or diagonal positions in cable management. Third is the cable manager with brush slots. This unique design can protect the cable from most contaminants and effectively increase the air flow at the same time. Last cable manager style is especially used for telephone line. It is often constructed by a base within two 110 cable management blocks.
Figure 6: Different Types of Cable Manager
7.Cable Management D-Rings
Vertical cable management rings provide you with a cost-effective solution which allow you to neatly and effectively organize and route cable bundles along racks and wall. Providing strain relief for attached cables, vertical rings can be attached to your rack where you need them for a versatile cable management solution. So there is no height limitation. The vertical cable management D-rings shall be a one-piece design. The front arm of the product shall be able to rotate ninety degrees to allow entire cable bundles to be inserted. The vertical cable management solution of flexible D-rings shall be installed with two screws less than 0.25″ diameter.
8.Cable Labels & Printers
Cable labels and printers are extremely important for keeping your wires, network, voice and data lines organized and running effectively. They will help you quickly identify the right voice lines during troubleshooting and can be used to mark the data lines for upcoming installs and repairs. They are available in a variety of sizes, materials and colors to fit almost any wire, voice, data and video cabling applications. Durable material options will help you identify wires and cables even in the harshest environments. Cable labeling is also available for racks, shelves, telecomm main grounding bus bars, fire stopping locations, pathways and general voice and data marking in the telecommunications closet.
9.Rack/Cabinet Shelves
The network cabinet shelf is divided into fixed shelf and sliding shelf. It offers a simple way to effectively organize mission critical computer hardware in your server racks and cabinets. A sturdy cold-rolled steel construction provides long term durability and holds up to 125 pounds. It can be used in 19" network cabinet either as a wall-mounting or as a floor-standing unit.
Final Thoughts
In high-capacity networks, cable management and protection are essential. Choosing the right cable-management system to route and protect cable is a critical first step in ensuring long-term network performance. The above mentioned are several common methods of cable management. This is by no means an exhaustive list, but you may find one of these solutions to improve your current cable management situation.